About me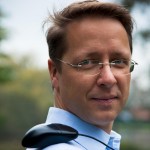 I like to solve complex challanges and create elegant solutions based on Open Source Software.
My specialty is RedHat Linux solutions where thinking in large scale is very important.
The past years I worked in a number of large international projects.
I'm good at building elegant solutions to complex challenges. To scale the solutions to production, train an operational team and then transfer the daily management to that operational team.
I am looking for challenging projects where I am stimulated to seek and extend the maximum of my ability, to come up with creative solutions within the given constraints.
Some Key words:
WordPress
Mailinglists
RedHat Linux
RHN Satellite
Puppet
OpenBSD
Apache Web servers
Postfix